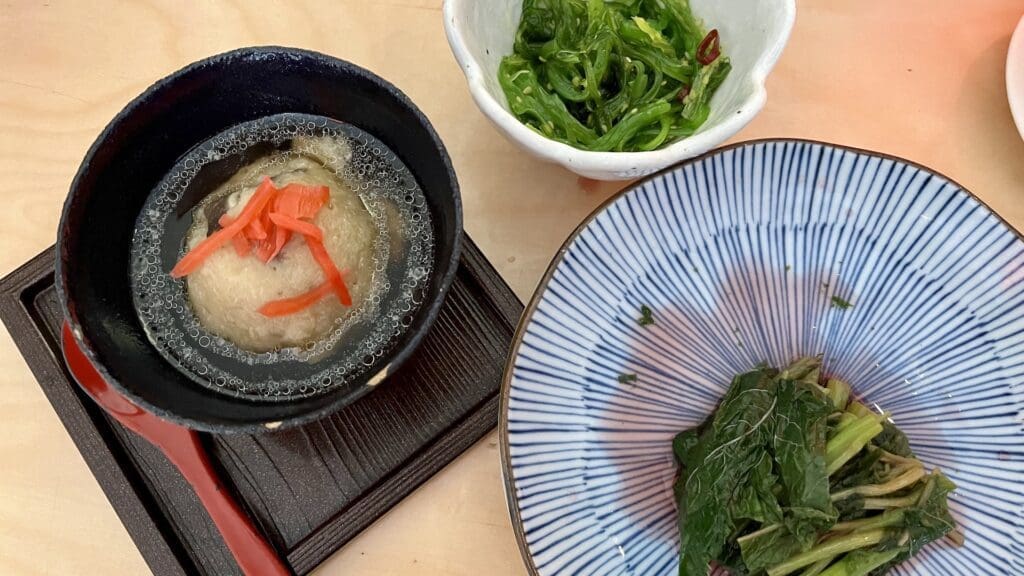 Finding the best sushi restaurant in Berlin takes a lot of research in a vast concrete jungle like Berlin with so many incredible food options.
In the following, we want to give away one of our secrets and present our favorite sushi spot located in Prenzlauer Berg.
The Best Sushi and Authentic Japanese Cuisine in Former East Berlin: Sasaya in Prenzlauer Berg
Prenzlauer Berg's food scene has always been influenced and enriched by the different ethnic groups and nationalities living and working there. It is now the hotspot for a trailblazing, multicultural, and innovative culinary scene.
Prenzlauer Berg, like the city of Berlin in general, historically went through a lot of transformations.
The district was once upon a time the epicenter of architectural development and economic growth of the Prussian Empire and the main locus of Berliner industries, like the beer brewing industry in the late 19th and early 20th century. It, later on, became the ideological hub for the Peaceful Revolution and consequently the Reunification of Germany.
By exploring the picturesque streets of what some grumpy "UrberlinerInnen" (born-and-bred Berliners) sometimes half-jokingly would call "Schwabylon", you'll not only find the best cafés in the city but also some of the best restaurants in Berlin.
"Schwabylon" refers to a cultural region of southwestern Germany called "Swabia" or "Schwaben" from where a lot of rather well-off people moved to Prenzlauer Berg and that often is falsely mentioned in the context of the gentrification of the former worker's district.
Join Walk With Us Tours on one of our Food and Walking Tours to discover some more hidden gems of this vibrant neighborhood of former East Berlin. In addition, learn about the recent topics and developments that the local community is concerned with!
Located in an area of Prenzlauer Berg that has been known since the 1980s as the "LSD-quarter" (an acronym composed of the street names Lychener-, Schliemann-, and Dunckerstraße that encircle the neighborhood, not related to the psychedelic molecule first isolated by Albert Hoffmann), or "Helmholtzkiez" – if you'd like to use the more recent, "drug-free" name for it – you'll find one of our most favorite sushi spots of the city: Sasaya.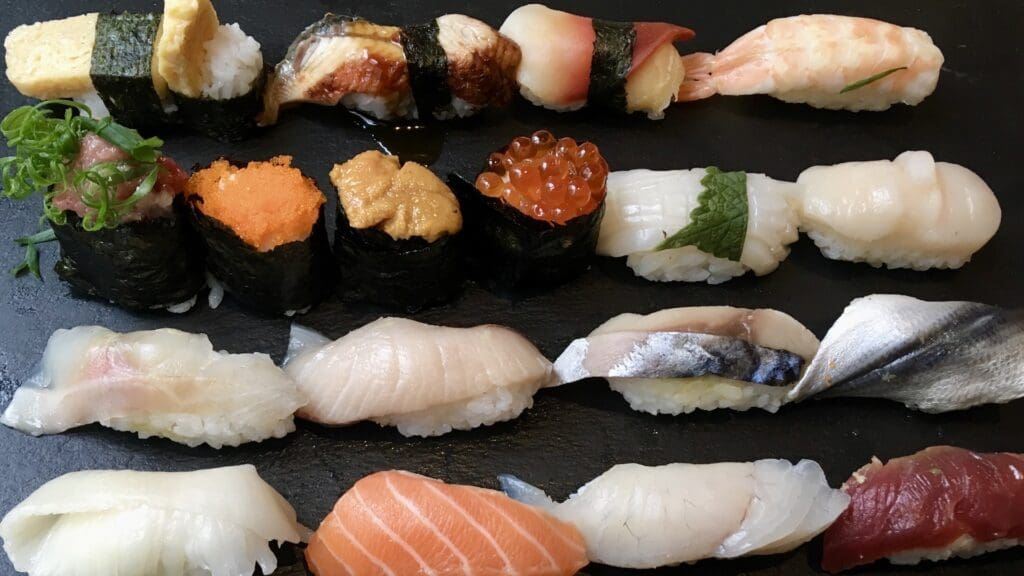 Japanese Culinary Craftsmanship at its Best
Upon entering the beautiful restaurant on Lychener Straße, you get a feeling of being in a classy food spot somewhere in Tokyo. You immediately feel the extraordinary hospitality of Japanese culture, with the staff politely greeting and welcoming you.
The stylish minimalism of the interior together with some soothing jazz music in the background set you up for the special and multi-sensory, culinary experience to come. Once you are seated, fasten the non-existent seat belt for a sushi-making show that proves again that, in a progressively developing Experience Economy, being unique and outstanding are crucial elements. Restaurants nowadays not only have to deliver high-quality food with the best ingredients but also need to become a sort of theater, where the customer takes on the role of the excited spectator that is about to get an unforgettable experience.
The culinary craftsmanship and sheer speed with which the only sushi chef prepares maki (rolls), nigiri, sashimi, etc., is astonishing and leaves the customer in a guaranteed wow moment. Try to get a seat at the sushi bar to make sure that you have the best view possible of the spectacle.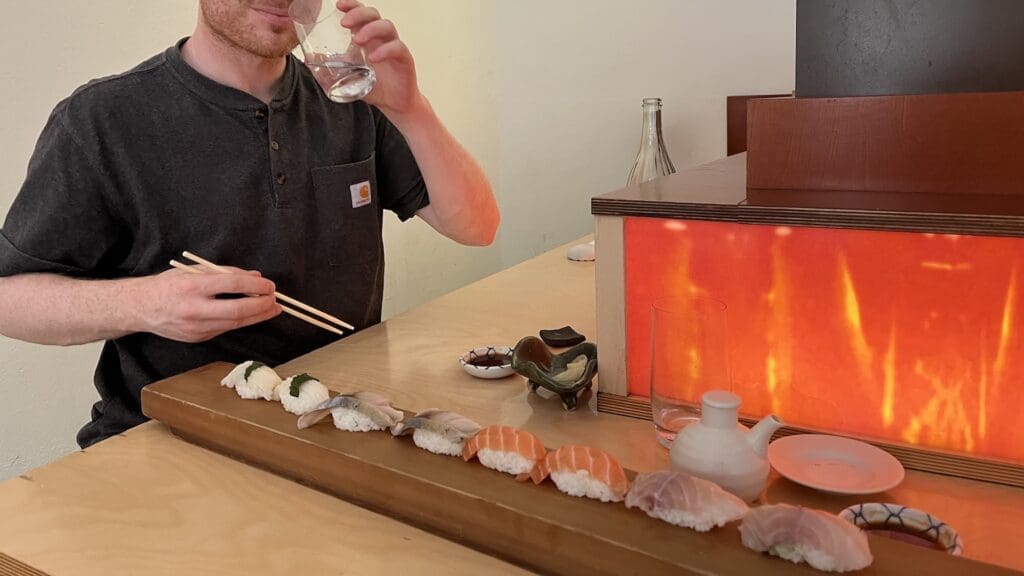 What to Eat at the Best Sushi Restaurant in Berlin?
Besides ordering the sushi à la carte (for the experienced sushi heads), if you are not exactly sure about what to eat, we recommend you try one of their nigiri omakase tasting menus. Omakase, a Japanese culinary tradition, directly translates to "I'll leave it up to you". You can trust the chef's choice since he always knows what type of fish or ingredients at that particular time and day will be the freshest.
Also, vegans and vegetarians won't go empty-handed because Sasaya offers mouthwatering vegan and veggie rolls as well. (If you want to explore the best vegan restaurants in Berlin, join our out-of-the-ordinary Vegan Food Tour in another trendy district of Berlin called Friedrichshain!).
In addition to the incredibly tasty sushi that is served, we also highly recommend you try some of the daily-changing appetizers like their one-of-a-kind gyoza sticks with a special homemade umami sauce, or the Manju dumpling that is served in a delicious, savory broth.
Even if you are not big into sushi, Sasaya will still surprise every food lover with some of the most authentic Japanese foods found in Berlin. Be sure to try their small dishes, rice bowls, and our personal favorite, the buckwheat udon noodle soup with Japanese mushrooms. This deliciousness can always be paired with their changing Sake tasting specials and if you go for lunchtime, you'll get a Japanese green tea "on the house" or a special amuse bouche if you decide to go for dinner.
To conclude your unique restaurant experience, indulge in some of their amazing desserts, like the coconut creme brulee, or the white sesame panna cotta in jasmine tea sauce.
Next door to the restaurant, you can even find a pottery shop from the same owners as Sasaya, where you can purchase beautiful, handcrafted Japanese pottery that is used in the restaurant as well.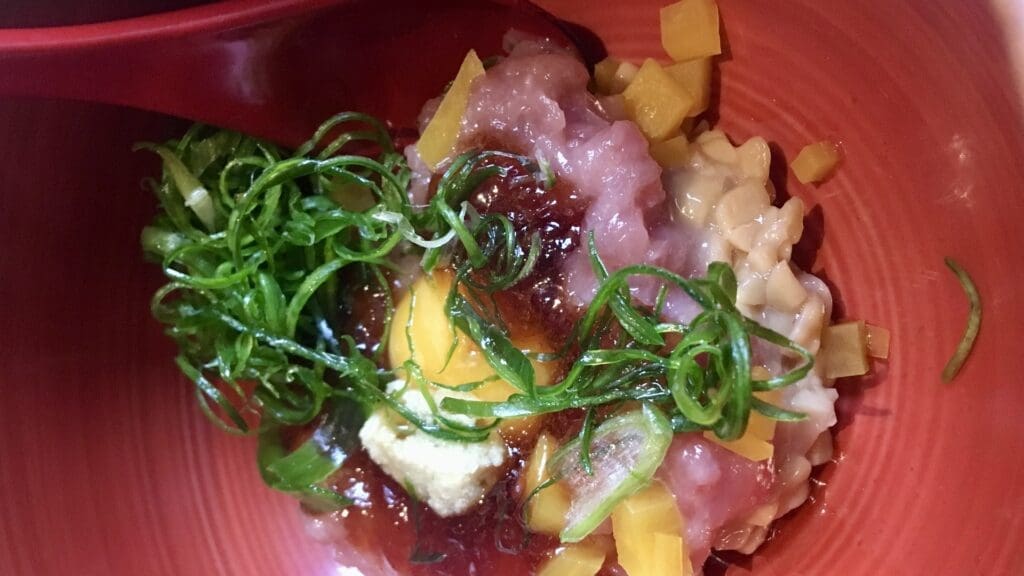 Some Insider Tips to Consider Before Heading Out
Since Sasaya is a very sought-after restaurant, we always recommend making a reservation in advance. You can also try to get a seat right when they open (during the week at lunchtime you might get lucky), but you are better off by trying to make a reservation before going. The best time to call to make reservations is at lunchtime between 12:00 and 14:30 (they, unfortunately, don't typically pick up the phone in the evening, so you should always plan ahead.) You definitely won't regret the extra planning.
Interestingly, although located in an area like Prenzlauer Berg, which is famous for shops for maternity clothing and eco-friendly toys for kids, Sasaya does not allow small children to the restaurant (mainly babies and young children). This aspect can be surprising and sometimes odd for parents with little kids, but this is one of their, at times, peculiar policies.
Don't hesitate to check out this incredible restaurant if you want to get a taste of traditional and authentic Japanese food culture in the middle of one of Berlin's coolest districts, Prenzlauer Berg.
For more info about Berlin, its food and drink, history and culture, get in touch!
Sasaya
Lychener Straße 50
10437 Berlin