Talking about clubbing in Berlin – especially when it comes to the famous underground electronic music clubs that attract many visitors (locals, as well as tourists) year by year and that constitute a key element of the local economy – the frequently asked question will be: How to get into Berlin clubs?
But what is it about Techno and House Music in Berlin…?
Techno and House Music in Berlin: A brief historical outline
To better understand the historical and social importance of this subculture in the German capital, we have to go back to a drastic event that took place on August 12th, 1961, when overnight the checkpoints from East to West Berlin were closed by the East German military and the Berlin Wall was erected.
From one day to the next, people couldn't visit their friends and family anymore that lived on either side. A life-changing event that politically and economically divided German brothers and sisters into a communist and a capitalist concept of Germany, after the incomprehensible experience of the administrative mass murder committed by the Nazi terror regime.
For almost 30 years, the German people were being divided and became the plaything in a global, imperialist conflict that later on historians would call the Cold War. And for almost 30 years, there was no shared culture or subculture among East and West Germans, or East and West Berliners.
I've Been Looking for Scheiße: David Hasselhoff and the fall of the Wall
The fall of the Berlin Wall happened almost as rapidly as its construction–when on November 9th, 1989–protestors were flocking to the checkpoints and were fortunately not greeted with gunshots by the East German military (even though it had the command to shoot). The first checkpoint to open back then was at Bornholmer Straße in Prenzlauer Berg.
(And no, it wasn't David Hasselhoff that made the Wall come down, but rather civil rights movements in the GDR and a politic-economic crisis of the Socialist Bloc.)
The Transition Period
The historically unique transition period or liminal phase of Berlin (and Germany)–between November 9th, 1989 until October 3rd, 1990–when the Reunification process was finally formalized–opened up a whole new world of physical, as well as cultural spaces, for novel movements that came to embody the revolutionary and free spirit of the early 1990s. During this time, these spaces were shared and co-created by Berliners (and Germans) from either side.
A lot of real estate, factory buildings, and warehouses within (now former) East Berlin that previously were state-owned (the concept of private property wasn't existent in Communist Germany), at least for a certain period of time, didn't belong to anyone anymore.
As a result of this political limbo, mostly young people and cultural dissidents (many also from the West) came to the East and appropriated these predominantly industrial spaces, squatted them, and organized parties and raves that came to be famous all over Germany.
Reunification on the Dance Floor
It was a general mode of "figuring things out" and a DIY mentality of that time that gave birth to a strong subculture, which until this day, plays an important role in the cultural landscape of the city.
Influenced by an emerging and predominantly Black techno and house music scene from the United States, originating mainly from cities like Detroit and Chicago in the 1980s, Berlin became the epicenter of Europe's dance music culture.
For the first time after almost 30 years, it didn't matter whether you came from the East or the West. What mattered was that "Ossis" and "Wessis" shared the dance floor and were reunited in the collective experience of a trance induced by the hammering and repetitive bass line of the music (and for some also induced by mind-altering substances like Ecstasy).
And that's the heritage that underground electronic music clubs in Berlin still carry to this date, although in a certainly more commercialized manner. If you want to find out more about the turbulent history of Berlin and its subcultures and get some amazing bites in before partying hard, join Walk With Us Tours on one of our Food and Walking Tours!
The 5 Best Underground Clubs in Berlin – Our Personal Favorites
The famous underground techno and house music clubs are still for the most part located in the former East of Berlin. In the following, we'll recommend some of our personal favorites to check out.
Berghain (why not Hainberg or Kreuzhain?): Why is Berghain so hard to get into and how is it pronounced?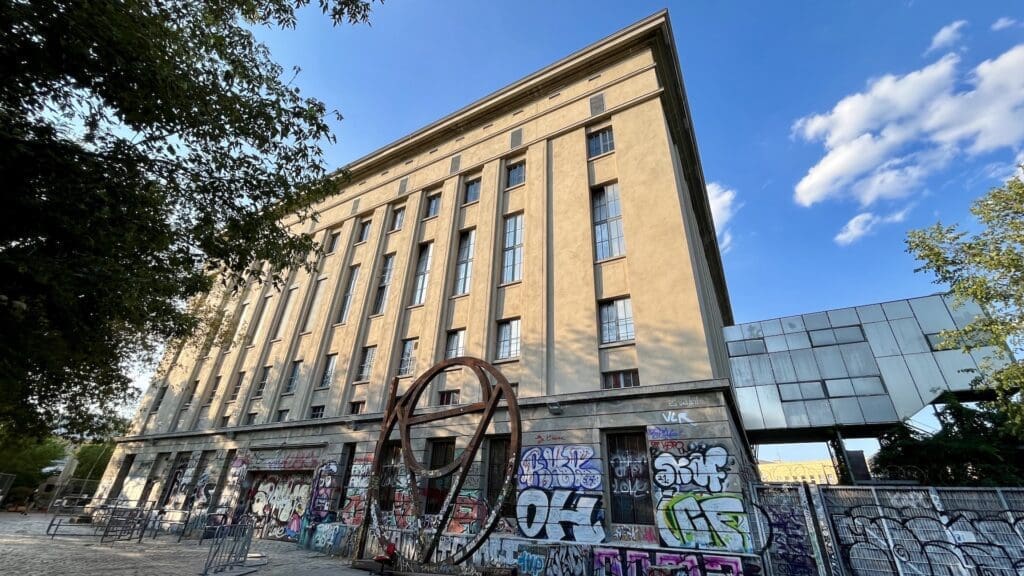 As the most famous and notorious nightclub in the world, Berghain is a mystery in itself. Known for its strict door policy, here, many egos have been hurt and the self-esteem of many people has been put into question.
My advice for people who think less of themselves since having gotten rejected by the bouncers at Berghain: read some of the books of Eckhart Tolle. He will not tell you how to get in, but how to get out of an egocentric mindset that takes everything too personally.
At the Berghain door, you have about 10 seconds to answer a few generic questions asked by the bouncers like "Wie viele?" (How many?), "Woher kommst Du?" (Where are you from?), or "Wer spielt heute?" (Who is playing tonight?). Then you'll enter the stage of psychological warfare with the bouncer. Your reaction will determine the outcome of your Berghain experience in a split second. Enjoy the ride!
The core of the club is the LGBTQ community and it started as a sex and fetish club mainly for gay men. That is why they clearly won't let a bunch of drunk "bros" in there.
Berghain aims to create a safe space and represents an alternative (and idealist) conception of a world where nobody cares who you love–especially in a still conservative and heteronormative country like Germany which only legalized gay marriage in October 2017.
Berlin is by far the most liberal and tolerant city in Germany and is different from other German cities in many regards. That's the reason why we love it here so much and that's why the city is the main hub for the LGBTQ community in the world boasting one of the world's largest PRIDE events.
The word "Berghain" is a hybridization that consists of the endings of the two respective districts where the club is located: Friedrichshain and Kreuzberg. Hainberg or Kreuzhain clearly would have been a good choice as well if you ask me.
Technically, Berghain is located in Friedrichshain, so on the side of former East Berlin. But since 2001 these two districts form one single administrative unit that, back then, was divided by the Wall and linked by the famous checkpoint at Oberbaumbrücke.
Once you get in (and yeah, dressing in black, leather, and latex might help), you'll get a taste of the best underground techno and house music in the world. Check out the carefully selected lineup every weekend for their famous Klubnacht (club night), which would probably cost you 5 times as much in other capital cities around the world. The Klubnacht goes from Saturday night until usually Monday at noon, non-stop.
On the bottom of the old building complex is the actual Berghain floor, where the focus is on fast, sometimes hypnotic, and deep techno, which corresponds very well with the industrial charm of the surroundings.
If you need a break from the vibrating sound, get some ice cream (yes, they actually sell ice cream there).
On the top floor is the so-called Panoramabar. Here, the music is a bit slower, and the best underground DJs in the world play amazing and danceable house music and disco. This is the floor to be for sunrise, as they sometimes open the blinds, ever-so-slightly, to let the rays flood the floor.
Sisyphos: How I Met Your Mother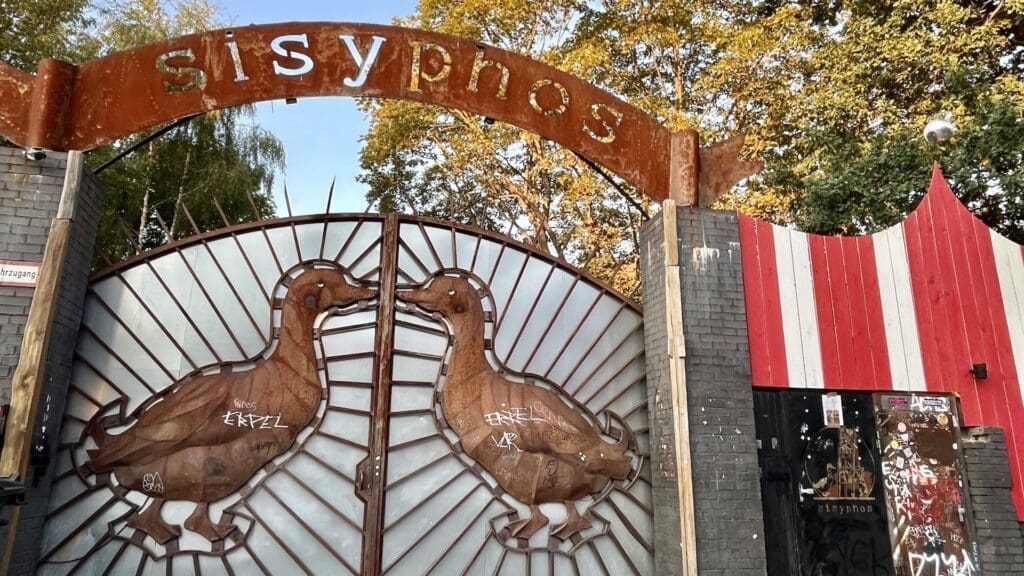 "Sisyphos!" That would be the answer if I needed to explain to my kids how I met their mother.
This playground for adults has a particular sentimental value for my wife Margot and me since that's where we first met (thanks to Gel Abril who put my wife Margot on the guest list and kind of urged her to come to see him playing that day on their beach. Also, thanks to my dear friend Eric who managed to remember Margot's Facebook name).
The history of this club begins in 2008 when a local artist collective took over an old factory for dog treats in the district of Lichtenberg, more precisely, Rummelsburg.
Sisyphos is particularly famous for having parties that sometimes last 6 days, non-stop, and for their spacious, circus-like open-air area. Being there feels more like being at a festival than being in a club, and for us, it's by far the best club in Berlin for partying in the summertime. They even sell delicious pizza and toothbrushes at their kiosk, so that you can keep on partying with a good taste in your mouth.
From more experimental, down-tempo music, to house and harder techno sounds in the Hammerhalle (name of the main floor inside), Sisyphos is a must for every lover of electronic music.
We recommend you go there in the morning after a few mimosas and a good brunch to avoid standing in line for 4-5 hours (I speak from experience here). Going there at primetime on Saturday night inevitably will leave a bad taste in your mouth (that's probably why they sell toothbrushes inside).
Kater Blau: The Cat Against Goliath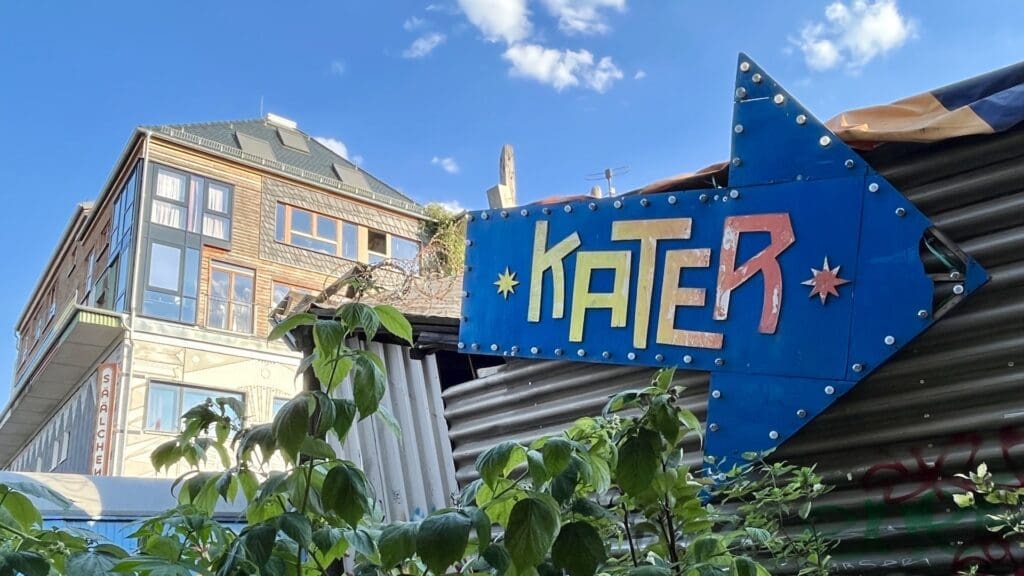 Kater Blau is the successor of the infamous Bar 25 and Kater Holzig, located in Friedrichshain near Ostbahnhof (a train station, back then called Schlesischer Bahnhof).
The club was founded in 2014 almost at the same location where once people were dancing their feet off at Bar 25. With the help of Swiss investors, the collective acquired the premium real estate along the river Spree. The club demonstrated for the first time in the history of Berlin that a (sub-)cultural institution (and therefore the people) could outbid a big corporation.
Kater Blau is closely connected to the Holzmarkt 25 area, an entry-free, subcultural village that is in itself a groundbreaking political statement against the progressing displacements and closures of cultural venues in the city.
The two main floors inside of Kater Blau will deliver an array of underground techno and house music, and at times more experimental sound and live performances as well.
Parties will usually take place here from Friday night to Saturday afternoon–then there will be a short period of closing time to clean up and prepare for the next event–which normally goes from Saturday night to Monday afternoon or evening.
Tresor: Berlin and Detroit Alliance
The club Tresor counts as the oldest Berliner techno and house music club (first opened in 1991) and where the before-mentioned, free spirit of the early 1990s that characterized Post-Wall Berlin, was manifested.
Founded first in the vault of an old department store at Leipziger Straße 126 near Potsdamer Platz by techno visionary and cultural activist Dimitri Hegemann, it also became the central connecting point of the techno alliance between Berlin and Detroit, that continues to live on to this day.
The club had to close in 2005 due to an expired, short-term rental contract. Fortunately, it was resurrected in 2007 in a tract of an old power plant in Berlin-Mitte, which is nowadays a unique event location called Kraftwerk. (Check out their ongoing exhibition about Techno. Berlin und die große Freiheit!).
The door policy is rather relaxed compared to Berghain, for instance. The less-rigorous doormen and doorwomen make the club more suitable for tourists that want to get a glimpse of the Berlin techno scene, without having the emotional stress of getting rejected at the door.
Nevertheless, the lineups at Tresor are anything but touristy. You will be sure to enjoy well-selected techno music in the bunker downstairs and always amazing house music at the Globus Bar upstairs.
Again, we recommend going early in the morning around 5:00 or 6:00 to prevent waiting in the queue.
://about blank: The Radical Left Amongst the Berlin Clubs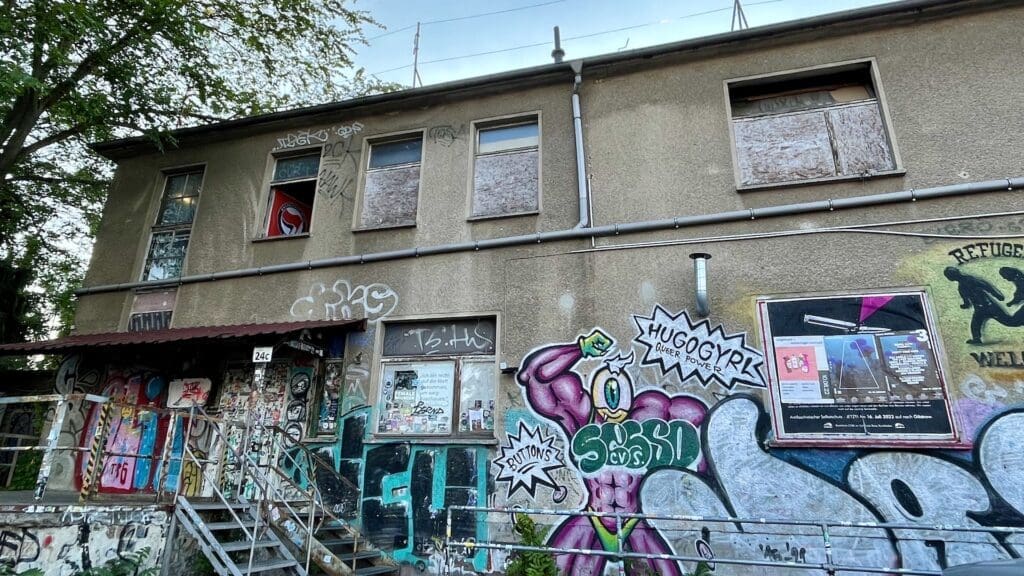 Last but not least, we highly recommend you visit ://about blank. This venue is known throughout the Berlin underground scene for its strong, leftist political identity and self-conception that is always publicly communicated.
Close to one of Berlin's busy public transfer points, S-Bahn station Ostkreuz in Friedrichshain, it is very conveniently located.
The door policy here can be at times a bit difficult and selective. The collective that runs the club attempts to create an inclusive safe space for all kinds of sexual orientations, ethnic groups, and genders, in order to deconstruct existing power structures and fight relentlessly against any form of discrimination. It is definitely worth trying if you go there with the right attitude and an open mind.
We recommend going there in the summertime to enjoy their huge outdoor space and listen to some good electronic music while laying on their chill beds which are scattered all over the garden.
But how do I get into Berlin's Underground Electronic Music Clubs?
To sum it up, there is no general rule on how to get into Berlin's most famous underground nightclubs. It always depends on the energy that you bring to the table.
One thing is for sure: don't go in large groups with drunk people and always try to be yourself. And since all of the mentioned clubs will put a sticker on your mobile phone cameras at the door anyways, please don't take pictures or videos once you're inside. Sometimes it's better to be in the moment and, coming back again to Eckhart Tolle, try to appreciate the now.
And if you don't like techno and house music at all, there are many great alternatives, with the many types of musical genres that the city has to offer. (If you decide to go in a large group with drunk people, maybe try to go to Matrix Club).
If you're looking for something special to do this winter holiday season while taking a little break from clubbing in Berlin (or get a warm-up before clubbing), check out our latest blog post for a list of the Best and Alternative Christmas Markets in Berlin.
Learn more about Berlin's vibrant and ever-changing art scene, subcultures, and countercultures while eating and drinking your way through the city's fascinating neighborhoods. Come on one of our Food and Walking Tours or get a customized and unforgettable Private Tour from local experts!