The Best Falafel and Shawarma Sandwich in Berlin

The day has come, friends: Today, we will give away a well-kept secret. Go and try for yourself what we think is one of the best falafel and shawarma sandwiches to be eaten in Berlin.
The different Arabic cultures — from Lebanese, Syrian, Tunisian, Moroccan, to Iraqi and Palestinian — play a crucial role in the culinary landscape of the German capital (especially prevalent in Berliner districts like Neukölln, Kreuzberg, Wedding, or Moabit). That is why you will find outstanding Arabic eateries and kebab shops, but also delicious Arabic sweet shops and bakeries throughout the city. 
For most of our amateur career as professional eaters and food enthusiasts in Berlin, we thought we knew about kebab sandwiches. Berlin is considered the capital of kebabs. Did you know that we have more Turkish kebab shops per capita than in Istanbul? From the famous Turkish döner kebab and Greek gyros sandwich to the multiple versions of the Arabic shawarma, falafel, halloumi, and makali sandwiches–every Berliner has their favorite spot to eat. For vegans, vegetarians, and meat-eaters alike. 
In a graceful David Hasselhoff manner, I even used to eat one while walking home from a party. Often I would find my pants and jackets covered in sauce stains the next day, wondering why my mouth was so garlicky and/or oniony.
Falafel in Berlin.de in Kreuzberg
Shawarma, döner, and gyros all mean something like 'to turn around' or 'to rotate' in the respective languages. This refers to the cooking of the marinated and stacked meat on a rotating skewer.
Even archeological findings confirmed that this mode of meat preparation was already known to the old Egyptians. But as with everything, there are many quality differences between the diverse kebab sandwiches, particularly regarding the quality of the ingredients used. 
After making our way home from an outstanding dinner we had for my birthday in Kreuzberg, we were still kind of hungry (I always need a lot of food to be satisfied). Coincidentally, a few days earlier, a friend and fellow foodie tipped us off and recommended the Arabic kebab joint Falafel in Berlin.de on Skalitzer Straße in Kreuzberg. Honestly, though very smart in terms of what folks in the digital marketing industry would call organic SEO, we probably would not purposefully go into a place with this name. And as a matter of fact, we passed this particular place many times and never went in. A big mistake, as we were about to find out. 
Since we were in the area this time, we decided to go to Falafel in Berlin.de and get a falafel and a shawarma sandwich. And we are very, very happy we did. What a great choice! The super friendly and efficient staff and the atmosphere of this cozy eatery made a great impression from the start. And then the sandwiches came. 
Served in a homemade Arabic flatbread pocket with sesame and filled with a freshly made salad, topped with fresh pomegranate seeds, and delicious sauces like the light mint yogurt sauce and the tangy mango sauce (called amba). It was heaven on earth! The meat and the falafel alike were succulent and delicious. Having eaten many sandwiches like these all over Berlin, they were outstanding and like nothing we had ever tasted before. 
So please, do yourself a big favor and treat yourself at Falafel in Berlin.de in Kreuzberg. 
If you would like to learn more about the diverse and multicultural neighborhoods of Berlin and explore some hidden gems that only locals will know about, please join us on one of our Food and Walking Tours. 
Falafel in Berlin.de
---
The Best Outdoor Swimming Pool in Berlin —
Badeschiff at Arena Berlin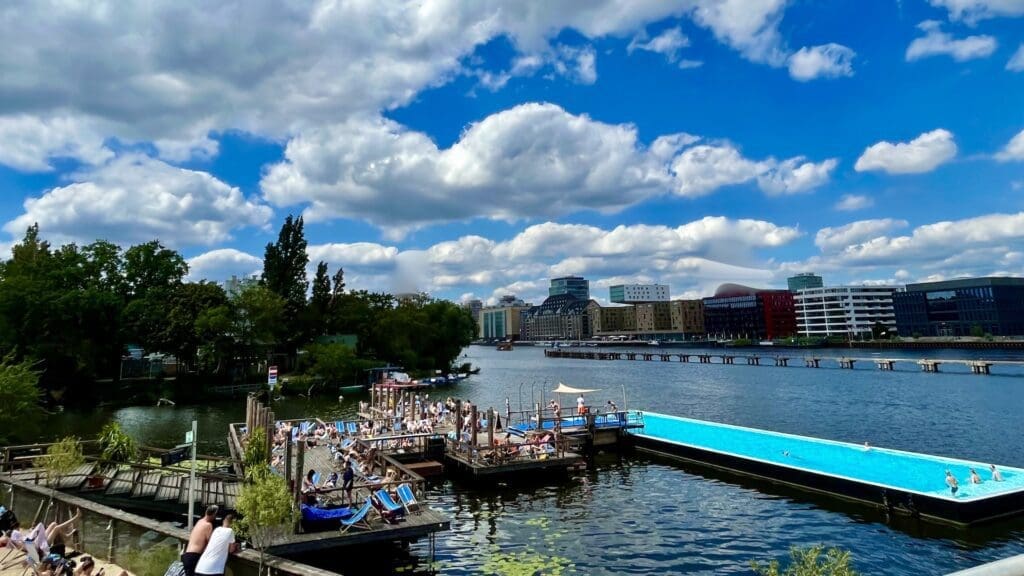 When you're on the S Bahn, U Bahn, bus, or tram in Berlin and the sweat is dripping from your forehead into the locally roasted, third-wave cold brew coffee of that person who just took the only free seat available away from under your nose, you know it's summer in the city.
In the following, we from Walk With Us Tours would like to recommend one of our favorite spots to cool down and relax on hot summer days while enjoying a spectacular view over Berlin: Badeschiff.
The Floating Pool in the Spree River: Badeschiff
In a strict sense, this one-of-a-kind swimming pool is between Kreuzberg and Alt-Treptow (even though we have mentioned it here in our Travel Guides under Kreuzberg). 
Badeschiff is part of Arena Berlin, a monument-protected industrial area that nowadays is a massive event location with multiple warehouses that can be connected if needed. Arena Berlin hosts concerts, fairs, festivals, parties, flea markets, and much more. 
Along with Glashaus, Escobar, or the Arena Club, Badeschiff is one of the venues in this unique historical complex. Arena Berlin initially was constructed as a maintenance depot for the local public transport company in 1927.
An Art Project Connecting People With the Spree River
The idea of a "Badeschiff" ('bathing ship') — an enclosed basin filled with water floating in the river and used for people to bathe in — historically goes back to 18th century Paris and Vienna. Later on, bathing ships also became a way for Berliners to temporarily escape the hot city center in the summertime.
Badeschiff at Arena opened in 2004 and is originally an art project designed by local artist Susanne Lorenz with the help of architects from Spain. In the tradition of public bathing in the Spree river dating back to the end of the 19th and beginning of the 20th century, the floating public pool gives people a closer connection to the river since bathing in the Spree is officially prohibited due to hygienic reasons. Additionally, it creates the opportunity to experience the Spree river within the beautiful cityscape of Berlin.
The water in the pool itself, a 30-year-old barge modified in a nearby dockyard, is preheated to 22°C (72°F) and is constantly monitored to guarantee the best water quality for the guests. The sun terrace and the beach both have sunbeds available for every guest. Go to Badeschiff to relax, sunbathe, read a good book and escape the hustle and bustle of central Berlin. They offer everything you need there. From lockers, changing rooms, and clean restrooms, to a nice bar serving great local refreshments, for instance from Proviant, as well as (iced) coffee and delicious snacks. 
And then the view. By overlooking the Spree river, you can take in a stunning view of the majestic Oberbaumbrücke with the TV Tower in the background. Looking in the other direction, you can see the famous Molecule Man, a 30-meter-high sculpture designed by the American artist Jonathan Borofsky. It truly is a unique perspective from the pool that, in my opinion, has a very calming effect. 
Tips – Things to Know Before You Go
Be sure to book a time slot online on their website. The venue has a limited capacity and sells out quickly (the limited capacity makes sure everybody gets a great spot and can enjoy the pool without being overcrowded. This aspect also aligns with local social distancing rules implemented during the pandemic. A slot for 2 hours will cost you 7€, but you can also book for 4 hours, 6 hours, or even the whole day (8 hours). 
Another thing is that the pool is only suitable for swimmers. Also, you're allowed to bring your own food there but bringing your own drinks to Badeschiff is not permitted.
So if you can't stand the summer heat in your top-floor Neubauwohnung or if you're still freezing in your bottom-floor Altbauwohnung, do as the famous Berliner folk song by Gerhard Froboess says: "Pack die Badehose ein, nimm dein kleines Schwesterlein, und dann nüscht wie raus zum Badeschiff".
If you want to receive more information about the best places to cool down in the summer, the best restaurants and eateries, events, museums, or other things to do in our favorite city, check out Walk With Us Tours' Travel Guides and Blog, or book a Food and Walking Tour to explore Berlin's vibrant neighborhoods with local experts!
Badeschiff Berlin