As Germany's capital city, Berlin has plenty to offer visitors and residents throughout the year. Whether your passion is for outstanding food, world-class cultural events, or relaxing outdoors in pleasant green spaces, there's something for everyone.
At Walk With Us Tours, we thought we'd compile a list of some of the main events and festivals taking place across the city during the rest of 2022. Read on to discover what options await you when you're next in Berlin.
And while you are here, be sure to check out our out-of-the-ordinary Berlin food tours – explore the city and its cuisine in the company of passionate locals.
August
Tanz im August (August 05-27, 2022)
Tanz im August (Dance in August) returns to Berlin from August 5. As one of Europe's most important contemporary dance festivals, you can expect to see a showcase of exceptional international talent. The festival will feature 21 productions involving over 200 artists from over 25 countries at HAU Hebbel am Ufer and 6 other venues in Berlin.
Look out for Spanish choreographer Marcos Morau's SONOMA, his tribute to the legendary surrealist Luis Buñuel – it's sure to be a festival highlight.
Potsdam Palace Night (August 19 and 20, 2022)
The Potsdam Palace Night will see the beautiful, Baroque grounds of the Park Sanssouci transformed into a mammoth stage. Expect an offering of good food, music, and performance. At the end of each evening, there will be a fireworks display. A visit to this UNESCO World Heritage Site is worthwhile at any time of year, but when there's music and theater on offer, it's definitely not one to miss!
Queer Art and Culture Days (August 20 and 21, 2022)
Taking place in Stadtpark Lichtenberg in the east of the city, this celebration of queer life and art is set to be a big event. There will be performances from live bands, readings, talks, and performances, along with street food stalls and markets for when you get hungry. The Queer Art and Culture Days is family-friendly and will start at 2 PM each day.
Long Night of Museums (August 27, 2022)
Now, this is a lot of fun! On the Long Night of Museums guests can enter the city's museums between 6 PM and 2 AM. When the event started in Berlin in 1997, there were 18 participating museums – today, there are 70.
Not only will guests get to enjoy the experience of walking through museums late at night, but there will also be special exhibitions, installations, guided tours, readings with actors, workshops, and culinary offerings.
September
Beer, Bourbon & BBQ Festival 2022 (September 01-04, 2022)
Fittingly taking place in Kulturbrauerei, a historic former brewery, this festival promises good beer, bourbon, and BBQ – what more could you ask for?

There will be over 26 craft beers on tap and at least 10 varieties of bourbon, and the event organizers promise the best barbecue in town!
If this sounds good to you, you may also want to consider our Berlin Craft Beer Tour with Food.
International Literature Festival (September 07-17, 2022)
The 22nd edition of Berlin's International Literature Festival will feature over 200 writers drawn from 40 different countries. Previous years have featured many intellectual heavyweights from the world of letters, so we expect this year to be no different. Keep an eye on the festival website for the festival program becoming available.
Lollapalooza Festival (September 24 and 25, 2022)
Music fan? You won't want to miss the German edition of Lollapalooza. Featuring a range of international talent, the festival's 2022 lineup is notable for its mixing of genres. Whether you like hip hop, pop, rock, or electronic music, there will be plenty of performances to choose from.
Oktoberfest in Berlin
Though Oktoberfest is a Bavarian tradition, there are usually several linked events in Berlin each year during the month of September (the traditional month for modern versions of the festival).

At Postbahnhof, you can enjoy the Spreewiesn Oktoberfest (September 10 – October 29, 2022). Expect steins of classic German beers and an array of traditional delicacies.
Elsewhere, there is Oktoberfest at Spandau Citadel (September 16 – October 29, 2022). The festival notes indicate this will be a similar affair with classic beers, hearty food, and live Bavarian music – a great option if you've always wanted the Oktoberfest experience but haven't been able to visit Munich.
If you would like to know more about the cultural importance of this old German tradition, while at the same time learning more about the history of beer in Germany and Berlin, join our Berlin Craft Beer Tour with Food!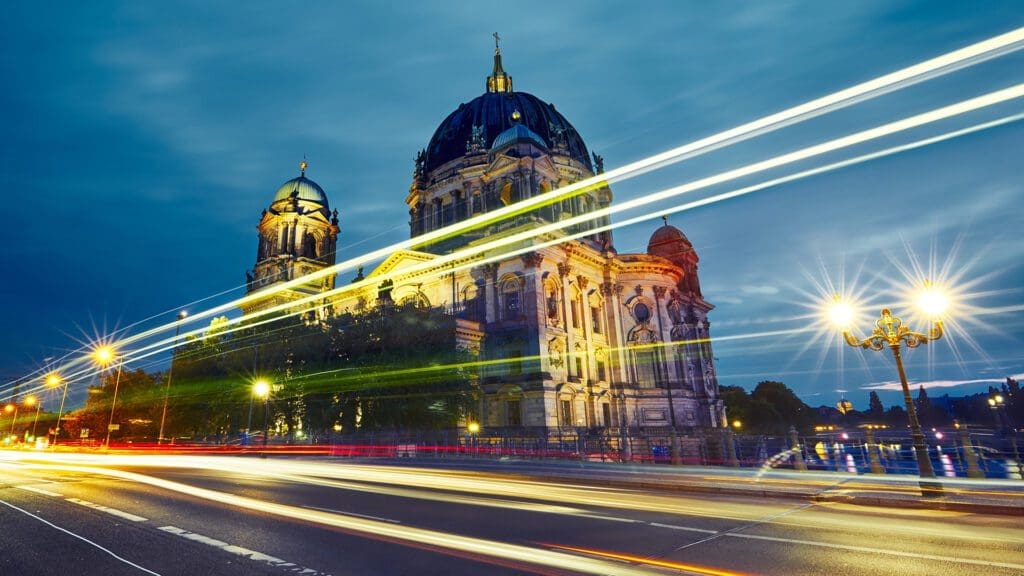 October
Medieval Juggler Festival at Spandau Citadel (October 01-03, 2022)
A leftfield choice to begin October. Now in its fifth year, the Medieval Juggler Festival gives guests a chance to step back in time. Eat traditional foods served from market stalls, listen to the medieval music of Ohrenpeyn and, of course, enjoy the street performers.
Festival of Lights (October 07-16, 2022)
The Festival of Lights turns Berlin's most famous monuments into art pieces. The theme for 2022 is "Visions of our Future" and buildings will act as canvasses for speculative images of how our future will look.
Famous landmarks that will be lit up include the Berlin Cathedral, the TV Tower, St. Hedwig's Cathedral, the State Opera House on the Linden, the Brandenburg Gate, Potsdamer Platz, the Victory Column, Charlottenburg Palace, and Berlin Central Station.
November
Theater der Dinge – International Festival of Contemporary Puppet and Object Theater (November 01 – 07, 2022)
Enter the strange, fairytale-esque world of puppet theater! From the beautiful to the disturbing, the surreal to the political, a packed program of international performers will showcase their talent, exploring the idea of "lost time."

Expect puppeteers from Germany, Belgium, Poland, France, the Netherlands, Iran, Catalonia, Mexico, Switzerland, Spain, and Czechia, among others.
Jazzfest Berlin (3 – 6 November 2022)
Having been running for over 50 years, Jazzfest Berlin is Germany's most prominent jazz event and a globally renowned festival. As with previous editions, you can expect an eclectic mix of soundscapes, from the traditional to the avant-garde.
The festival's mission has been "to document, support, and validate trends in jazz, and to mirror the diversity of creative musical activity," – you can count on internationally prominent performers and a veritable deluge of wonderful music.
Christmas in the Tierpark (November 18, 2022 – January 15, 2023)
We're into the winter months, and so the Christmas events begin! An excellent choice for those traveling with children, Christmas in the Tierpark will see the Berlin zoo lit up with over 30 light sculptures. It promises to be enchanting and, you'll be pleased to hear, there will be tasty food on offer too.
December
Christmas Markets (throughout December)
Berlin is famous for its magical Christmas markets, the perfect way to get into the festive spirit! Wrap yourself up nice and warm and head to the market to indulge in international street foods and classic wintry flavors such as mulled wine (Glühwein), and pick up unique Christmas gifts.
The schedule may change every season, but classic Berlin Christmas markets you shouldn't miss include the Charlottenburg Castle Christmas Market, Potsdamer Platz Christmas Market, Kaiser Wilhelm Memorial Church Christmas Market, and Gendarmenmarkt.
For more local insights and info about the winter season in Berlin, please check out our most recent blog post about the Best Christmas and Winter Markets in Berlin.
This brings to a close our list of some highlights from Berlin's upcoming 2022 events and festivals. Plenty is going on right through until the new year.
We hope we were able to give you guys some ideas. And if food is one of your passions, please consider joining us for one of our Walking Food Tours in Berlin or our Berlin Supper Club.

If you have any questions at all, please get in touch.