In Berlin, Rudolph isn't the only one rocking a red nose. And when grocery stores start selling Christmas candy in October, you know it's that time of year – or at least time to ponder your festive Berliner Christmas market (Weihnachtsmarkt) escapades for 2023. Let the merry planning begin!
Berlin's Christmas/Winter markets? Pure magic! With classics and fabulous alternatives, it's easy to get overwhelmed in the best way possible. Time to check them all out!
Wrap yourself up nice and warm and head to the markets. Indulge in international street foods, like one of our favorites, Hungarian langos, a deep-fried Hungarian flatbread with different toppings to choose from like sour cream, cheese, and green onions. Or, go for the classic wintry flavors such as Glühwein (mulled wine). Also, try a delicious Bratapfel (baked apple), and maybe even pick up some unique holiday gifts along the way.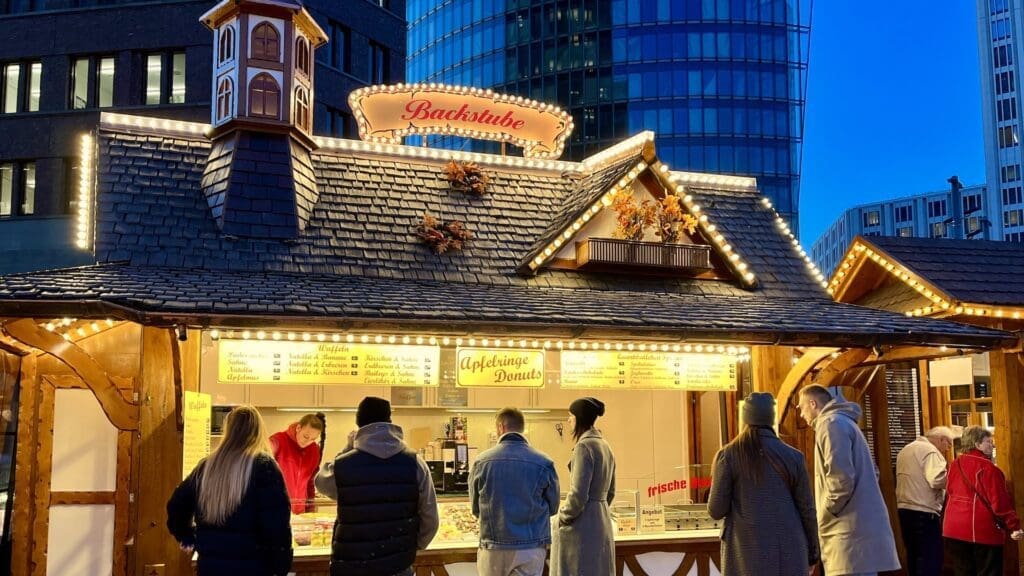 As we all know, the best gifts aren't necessarily things (unless it's grandma's hand-knitted wool socks, of course). The real gems are those memorable experiences that your loved ones will cherish forever!  
That is why you shouldn't hesitate to purchase a special gift card for one of our exceptional Food and Walking Tours in Berlin. Give your loved ones an experience they will never forget. Buy the perfect Christmas/Hanukkah/Kwanzaa/holiday present (and of course, a perfect gift for other special occasions as well).
But coming back to the best Christmas markets in Berlin. In the following, we from Walk With Us Tours (Margot and Alex) want to give you a selection of classic as well as alternative Christmas markets in our city that you shouldn't miss this year. 
5 Best Classic Christmas Markets in Berlin
The schedule can vary each year (please see the links below for the exact dates and opening hours), but classic Berlin Christmas markets you should check out include:
1) Charlottenburg Castle Christmas Market
2) Potsdamer Platz Christmas Market
3) Christmas Market on Breitscheidplatz
4) Christmas Market on Gendarmenmarkt
5) Christmas Market at the Kulturbrauerei
In addition to the Christmas markets mentioned above, there will be numerous impressive Christmas markets in other Berliner districts. A few are a bit off the beaten track but definitely worth visiting.
Welcome to the diverse world of Berlin, where endless social and cultural profiles intertwine. As Berliners, we too are constantly rediscovering our hometown, eager to explore its hidden treasures. Don't resist the urge to step out of your comfort zone while you're here! Grab a public transport ticket, hop on a train, and venture into the lesser-known corners of this vibrant city. Trust us, the excitement and reward will be beyond measure. 
5 Best Alternative Christmas Markets in Berlin
Do you want to get an insight into other interesting Berliner districts with their charming neighborhoods while at the same time getting a memorable (alternative) Christmas market experience? Then, we highly recommend exploring some of the markets below (for the exact dates and opening hours of the respective markets, please check out the links below):
Medieval Christmas Market at Britz Palace
The Medieval Christmas Market is at the historic Britz Palace built in the 18th century. Britz is a part of the district of Neukölln but really is its own world. This particular market is unique because of its Nordic theme. The historical entertainment and stunning fire shows go very well with the incredible food and drink offered. Immerse yourself into a Nordic fairytale and explore a part of Berlin that most people don't even know about.
Christmas Avenue at Nollendorfplatz
The Christmas Avenue at Nollendorfplatz will be in the diverse and all-inclusive neighborhood of Schöneberg. Known for being Berlin's hub for a colorful LGBTQI scene, Schöneberg has a lot to offer. This includes outstanding bars, restaurants, and food markets — to name a few.
Make sure to check out the Christmas Avenue at Nollendorfplatz to see incredible illuminations and quirky Berliner performers. Also, take part in show formats like drag bingo, among others. The abundance of high-quality food and drink you'll find there will surely leave a great taste in your mouth.
Heissa Holzmarkt
The Heissa Holzmarkt is among the most colorful, artsy, and alternative Christmas markets you can find in the city. And it is probably our personal favorite when it comes to Christmas and Winter markets in Berlin. Very centrally located along the Spree River in the district of Friedrichshain, Heissa Holzmarkt is organized by the alternative creative project Holzmarkt 25.
Coming from a heritage of running the trailblazing Bar 25 and organizing notorious electronic music parties that left a long-lasting imprint on the (sub-)cultural landscape of Berlin, Heissa Holzmarkt (and the area where it takes place) will blow your mind. From mouth-watering, ethnic food and drink, to locally made goods, art, and jewelry, as well as astonishing performances and programs for children, you will find everything there. Please don't miss this one, my friends!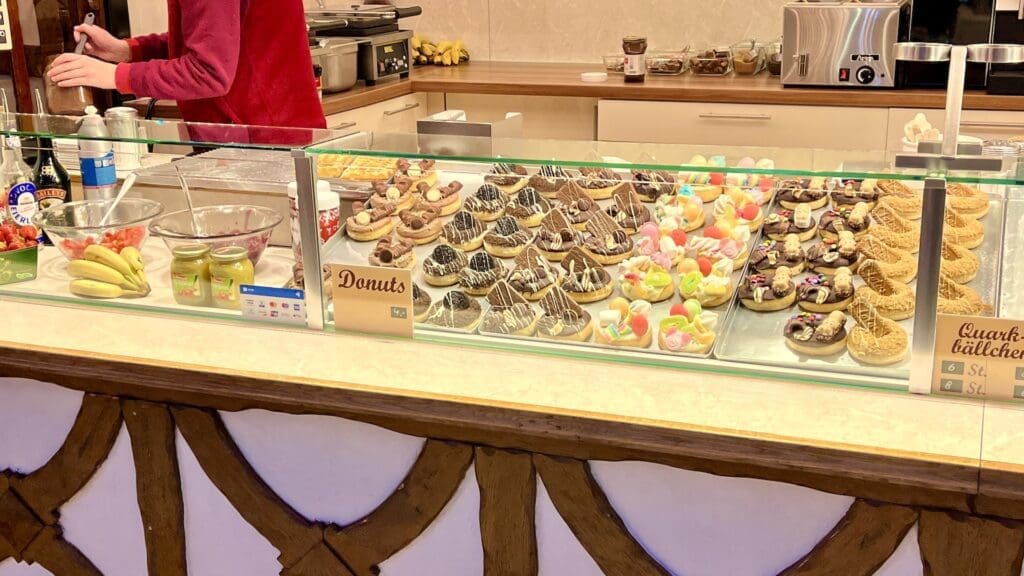 Christmas Market on Bölschestraße in Friedrichshagen
The suburban district of Friedrichshagen (though only about 30 minutes with public transportation from the very center) historically was always a popular nearby summer vacation destination for Berliners living in the busy and crowded central districts. And with the recently trending concept of "staycation", the area around the famous Müggelsee got even more popular for swimming, hiking, paddling, or simply relaxing. But, Friedrichshagen is also worth a visit in the wintertime.
The romantic Christmas Market on Bölschestraße will usually take place on the fourth weekend of Advent and will have an abundance of tasty foods and beverages. If you would like to see a part of Berlin that is often overlooked — with its well-preserved and picturesque Wilhelminian architecture — take the S Bahn 3 to Friedrichshagen and explore this unique historic district. It is even more charming in winter.
Medieval Christmas Market at the RAW Area
Built in the late 19th century, the RAW area (an acronym for the unnecessarily long German word Reichsbahnausbesserungswerk) historically was a train maintenance center. Nowadays, it is one of the last subcultural villages of former East Berlin located in the heart of Friedrichshain. The RAW area — during socialist times named RAW Franz Stenzer — embodies the old, alternative Friedrichshain and its struggle with the progressing gentrification of the neighborhood. This is a struggle a lot of central Berliner districts were/are going through.
The Medieval Christmas Market at the end of the RAW compound seems to reunite the locals who live in the neighborhood. Visit and purchase some handmade crafts from blacksmiths, potters, and/or woodcarvers. Immerse yourself in the medieval atmosphere and maybe try a white mulled wine this year. And don't forget to check out the jugglers and acrobats and their breathtaking performances.
Also, if you love fantastic handcrafted and traditional German beers, please check out the family-run microbrewery Schalander right next to the market at RAW. You won't regret it. Prost!
Want to Experience Berlin Off The Beaten Path with Locals?
We hope we have given you some ideas for planning the winter holiday season in Berlin. And, if food and/or history are one of your passions, please join us for one of our Walking Food Tours in Berlin or our exclusive Berlin Supper Club.
We also offer unique Private Tours that are fully customizable according to your needs, wishes, dietary restrictions and general preferences. 
If you, for example, looking for a memorable experience that will give you the chance to savor delicious craft beers, sample local cuisine, explore Berlin's fascinating history and visit a unique Christmas market, look no further. We are here to create an unforgettable, personalized outing just for you. Don't delay – contact us now and let us help you craft your private tour of Berlin!
If you have any questions at all, please get in touch.
Auf bald!