Looking for a new and trendy Italian restaurant to have lunch with your friends and family on a huge outdoor terrace, overlooking a park? Celebrating a birthday or special occasion and looking for a lively atmosphere with excellent service and authentic Italian cuisine? Read more to find out our new go-to spot for all the things…
Authentic Italian Cuisine in the Heart of Berlin-Mitte: Coccodrillo
Did you know Germany has one of the largest Italian communities outside of Italy after Argentina?
Who do you think was bringing the sophisticated coffee and Gelato culture here to the land of coffee substitutes like Muckefuck? For those who don't know: Muckefuck is a coffee substitute made from chicory or malted barley that people already drank during the Prussian Era and that people consumed in Socialist Germany alike.
But back to the initial question. Exactly! Our Italian friends enriched the culinary landscape of Germany and of Berlin in particular.
Here in the German capital, we are blessed with an enormous density of incredible Italian eateries and even purely Italian supermarkets.
For the birthday of my wife Margot and our 6th anniversary, we went to the new and hot Italian restaurant in Mitte which we'd like to recommend to you today my dear friends and followers: Coccodrillo.
Brief History of Italians in Berlin and Germany
But before talking about the actual restaurant, just a little history lesson to begin with.
There is a long-standing, historical relationship between Germany (or what is now called Germany) and Italy. The city of Berlin has always been attractive to many Italians.
When Berlin became the capital of the German Reich in 1871, many Italians were fascinated by the pioneering spirit of the bustling metropolitan city and economic center of the Prussian Empire.
In 1877 for example, two Italians opened a factory for musical instruments introducing their technical know-how to an area of Berlin that is now Prenzlauer Berg. Instruments like barrel organs or violins were manufactured until 1967 and sold from Berlin to all parts of the world.
Furthermore, other Italian workers like masons, stonemasons, and sculptors came to Berlin to work during this time. They introduced the famous mosaic floors called Venetian Wash to the many churches of the newly founded German capital.
Even many Berliners won't know that an "Italian Colony" existed in what is now Prenzlauer Berg towards the end of the 19th and beginning of the 20th century. With an abundance of Italian restaurants, wine sellers, music bars, and a vibrant Italian community, Prenzlauer Berg is a great district to visit for all things Italian.
Another massive influx of Italian immigrants to Germany and (West-)Berlin happened after the Second World War. Due to the devastating Battle of Berlin in 1945, Berlin (and most parts of the country) lay in the rubble. Many (mainly) men were injured or killed during the war. As a result, there was a shortage of labor within post-war Berlin and Germany. To counterbalance this shortage of labor force and to help rebuild Germany, the West German State (the Federal Republic of Germany, or short FRG) started a bilateral agreement with Italy in 1955. Many Italians (especially from rural areas of Italy) came to Germany and Berlin to work. After some time, they were allowed to bring their families importing their incredible culinary culture with them.
Because of the economic crisis of the EuroZone that affected Mediterranean countries like Greece, Italy, and Spain, there has been a new influx of younger Italians to Berlin and Germany. Since Italian citizens have the European Passport, no visa restrictions or restrictions on work permissions apply. Many immigrated to Berlin and Germany to find better-paid jobs in specific industries. Some found that the Italian cuisine here was too "Germanized". That's why they decided to start their own food businesses, restaurants, and eateries to accurately represent the many faces of authentic Italian culinary culture.
Cucina Italiana Alla Mamma A Berlino
One example of this new wave of aforementioned authentic Italian restaurants in Berlin is Coccodrillo. The restaurant is on top of Volkspark am Weinberg or Weinbergspark in Berlin-Mitte close to the U Bahn Station Rosenthaler Platz. Where once vineyards occupied ("Weinberg" is German for vineyard) the hill, you now find this charming place that serves outstanding, authentic Italian food.
The food itself is simple but the ingredients speak for themselves. Coccodrillo only uses ingredients that they source directly from small producers in Italy and their homemade pasta and Neapolitan-style pizza are more than delicious. Their homemade pizza dough rests for 72 hours before making its way into the oven. We recommend that you order family-style, so that everyone can try multiple dishes.
Start the Italian feast with the creamy and smoky Stracciatella Affumicata, La Grande Burrata–featuring 250g of deliciousness straight from Puglia, or the mouthwatering Arancini Siciliani filled with risotto rice and Caciocavallo cheese. For main courses, we highly recommend the Spaghetti Black Mamba with squid ink or their Famous Truffle Mafaldine Pasta. For dessert, indulge in their artisanal Sundae Gelato Alla Fior Di Latte E Brownies or the silky Panna Cotta Ai Frutti Di Stagione.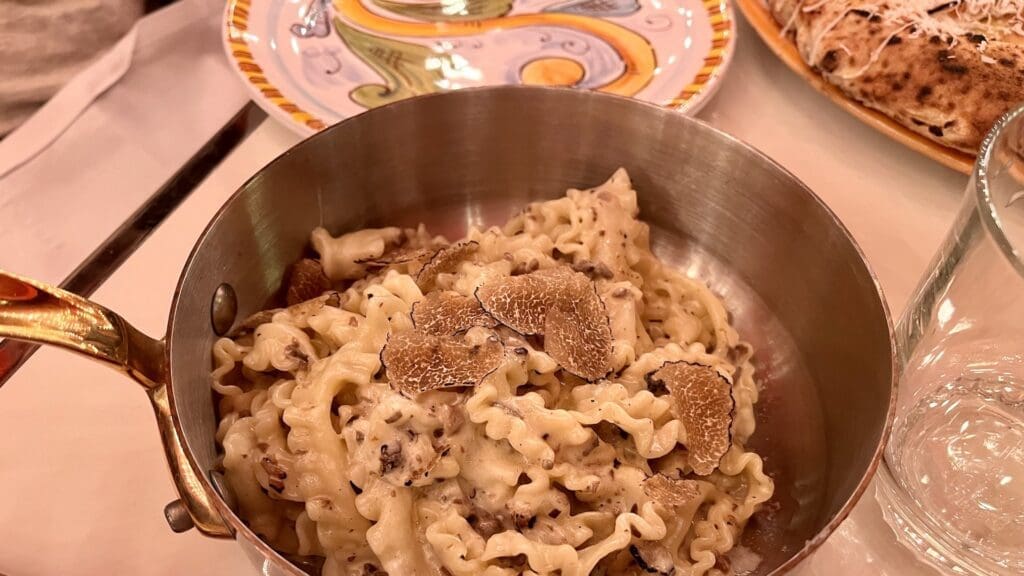 But not only is the food special at Coccodrillo. Also, the interior design of the restaurant is unique. The colorful, eclectic, and electric design reminds you of the vibrant neon retro look of the 80s with a modern Berliner twist and a lot of love for kitsch. The toilets are one of a kind. You should definitely check out their bathrooms. I know it sounds weird!
The restaurant opens every day for lunch and dinner. Check out the menu for the latest offerings. Saturday and Sunday, Coccodrillo is also open for brunch with a special brunch menu from 10:30. Reservations are highly recommended.
Allora, avanti, avanti, avanti!
If you want to learn more about the deep-rooted multiculturalism of Berlin and get tips on things to do or hidden gems to check out, join Walk With Us Tours on one of our Food and Walking Tours.
We cannot wait to welcome you! Arrivederci!